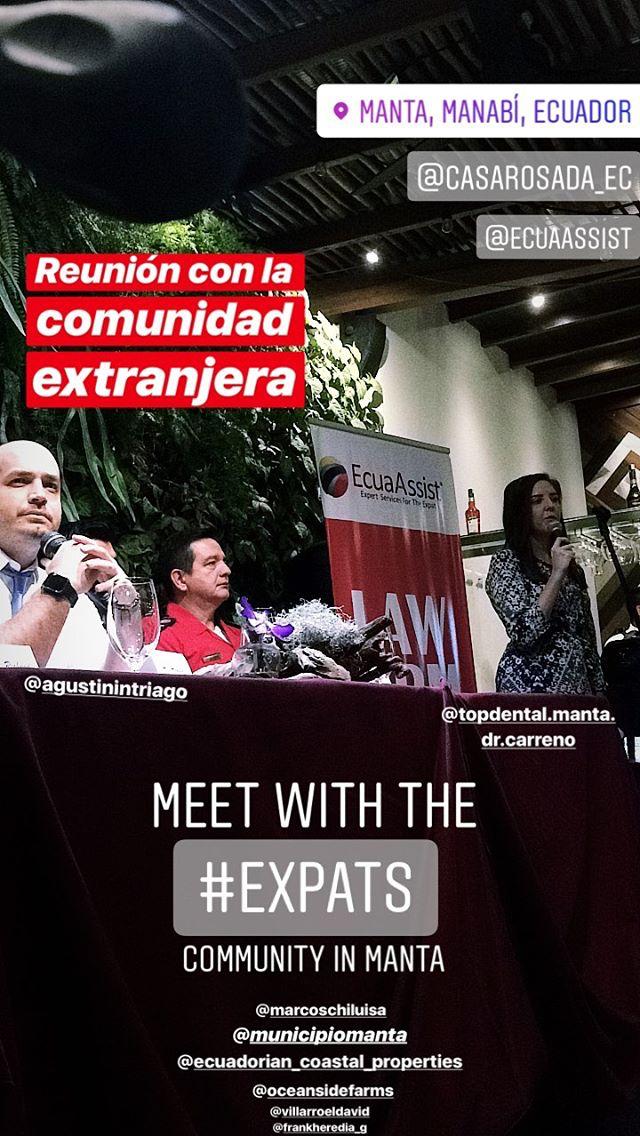 Alcalde Agustin Intriago se reúne con la comunidad de expatriados (EXPATS) residentes de Manta y alrededores

Asistencia en Redacción/writing´s assistance: Romina Cuvi – [email protected]
---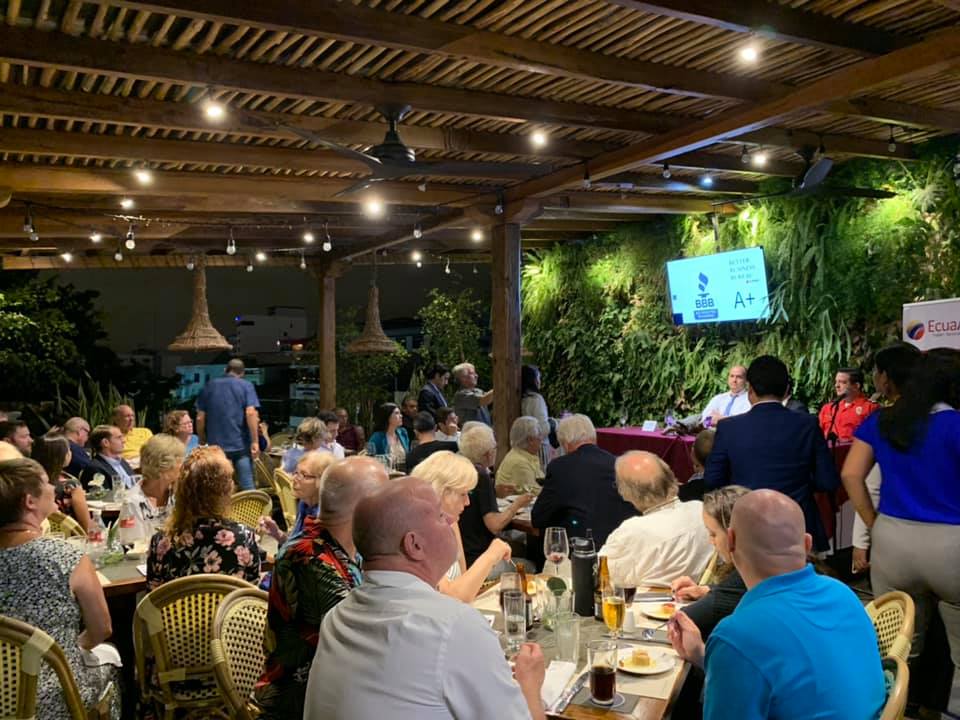 Un ambiente de integración y confraternidad fue celebrado entre invitados de la ciudad y la comunidad de residentes extranjeros, quienes con mucho optimismo y entusiasmo recibieron al reciente (100 días en gestión) Alcalde electo de la ciudad de Manta, Abg. Agustín Intriago Quijano.
// An atmosphere of integration and fellowship was celebrated between guests of the city and the community of foreign residents, who with much optimism and enthusiasm received the recent (100 days in management) elected Mayor of the city of Manta, Mr. Abg. Agustin Intriago Quijano.
El objetivo general de la reunión fue dar a conocer a las autoridades la realidad de los "expats" (expatriados)  dentro de nuestra sociedad, como es vivir como un expatriado aquí en Manta, que por medio de las preguntas y respuestas ellos conozcan que oportunidades les brinda el nuevo gobierno de la ciudad y afianzar relaciones.
// The general purpose of the meeting was to address the authorities the reality of the expats living within us as part of the society, how is such a thing as living as an expatriate here in Manta. An interesting round of Q&A gave the opportunity to get awareness of the new government reality, offers and alliances that are available to strength relationships between the involved parties.
La cita tuvo lugar en "La Terraza" del exclusivo restaurante/patrimonio de la urbe, La Casa Rosada.
//The event took place in "La Terraza" of the exclusive restaurant / city heritage of the city, La Casa Rosada.
---
TESTIMONIOS / testimonials
GARRETT PARKER – Residente, Consultor de Inversiones // Resident, Investments Consultant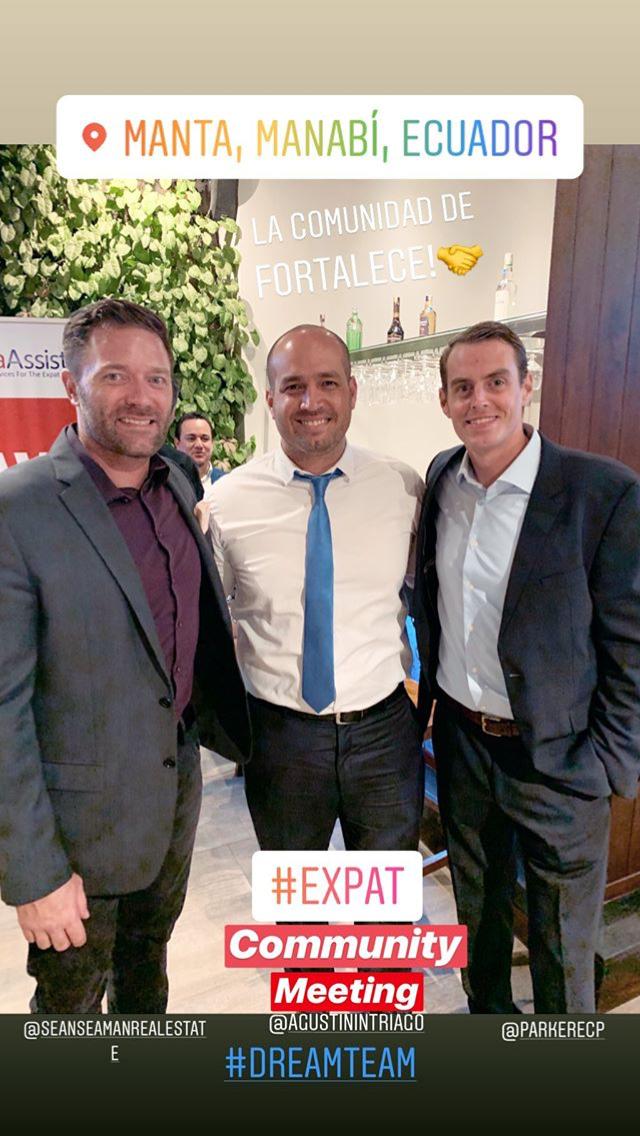 "Fue un evento fantástico y presentar al alcalde a nuestra comunidad de expatriados. Para que el alcalde se tomara un tiempo fuera de su agenda, reunirse con nuestro grupo es una verdadera señal de liderazgo. El Alcalde escuchó, habló sobre sus increíbles planes para asegurar que Manta, Ecuador se dirija en la dirección correcta. Realmente puedo decir que comparto sus visiones y no puedo esperar para comenzar a ayudar.
Me mudé a Manta, Ecuador, justo al salir de la universidad. He vivido aquí 11 años ahora. Cuán rápido pasa el tiempo. Establecimos un negocio poco después de mi llegada y tenemos un sentido constante. Ayudamos a la comunidad de expatriados a encontrar la casa ideal de sus sueños y ofrecemos muchos servicios para asegurarnos de que se sienta como en casa y ofrecer todas las soluciones.
// It was a fantastic event to introduce the mayor to our expat community. For the the major to take time out of his schedule, to come meet with our group was a true sign of a leader. The major listened, spoke about his amazing plans to assure Manta,Ecuador is headed in the right direction. I can truly say that i share his visions and can't wait to start helping.
I moved to Manta, Ecuador right out of college. I've lived here 11 years now. How the time goes by fast. We established a business shortly after my arrival and have rolling ever sence. We help out expat community find there perfect dream home and offer many services to make sure you feel at home and offer all solutions.
---
SEAN KELLY – residente/inversionitsa // Expat landowner/ investor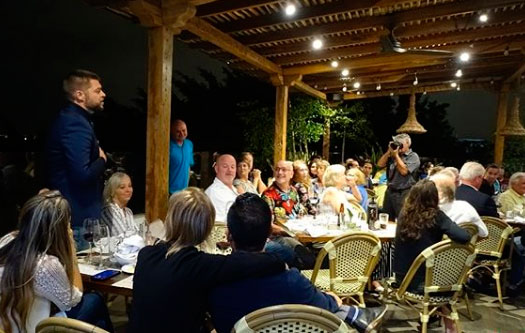 "It's fantastic to listen and interact with the mayor of Manta, Agustín Intriago this evening. As a community it comes with great appreciation that he devoted his time and effort to work directly with us expats, hear our concerns and more importantly, voice his modern vision for our community. Gracias señor alcalde Agustín Intriago Quijano y Marcos Chiluisa por su tiempo y dedicación a nuestra comunidad".
---
DOMÉNICA ALARCON – Ejecutiva de Negocios Jr // Junior Business Executive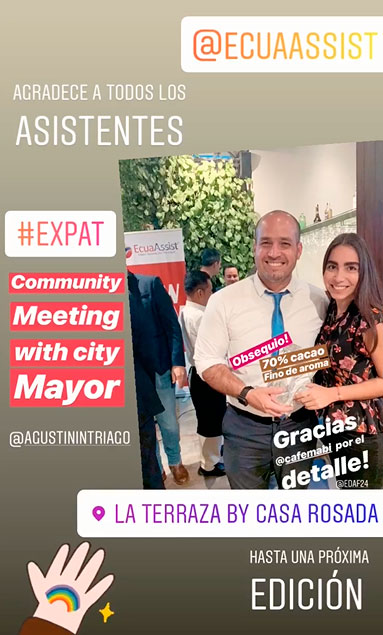 "Gracias revista @mantamag por la oportunidad de asistir y conocer otras realidades"
// "Thanks @mantamag magazine for the opportunity to attend and meet other realities"
---
CHASE SQUIRES – Generador de Conversaciones // Online Facebook group "Expats and amigos de Manabí"
"Demasiados años como periodista significaba que no podía ir a una reunión del ayuntamiento con el alcalde y no tomar notas e informar. Para cualquiera que no haya podido asistir, espero que esto ayude":
//Too many years spent as a news reporter meant I couldn't go to a town hall meeting with the mayor and not take notes and report. For anyone who was not able to attend, I hope this helps.
****
Infraestructura, turismo, planificación integral Agenda del alcalde superior
// Infrastructure, Tourism, Comprehensive Planning Top Mayor's Agenda
MANTA, Ecuador – Liderando la ciudad más allá de la dependencia de la pesca con inversiones en infraestructura, desarrollo empresarial y turismo, encabeza la agenda del nuevo alcalde Agustín Intriago, dijo a un grupo de más de 60 residentes expatriados en una reunión del ayuntamiento el martes.
Hablando a través de un intérprete, Intriago, a menos de tres meses de su mandato, llamó a Manta "una ciudad de oportunidades" pero con mucho que superar si se trata de continuar su crecimiento como centro turístico.
Encabezando la lista están las plantas de tratamiento de aguas residuales que pueden mantener la posición de la ciudad como la de mayor crecimiento en Ecuador, dijo. También presentó planes para desarrollar espacios verdes, incluido un gran parque frente al mar y una serie de espacios verdes frente al mar y muelles flotantes de $ 1.6 millones dedicados a los residentes y visitantes en lugar de la pesca comercial. El próximo año, dijo que la ciudad planea involucrar a expertos en el desarrollo del ecoturismo para capitalizar la ubicación de Manta.
// MANTA, Ecuador – Leading the city beyond a dependence on fishing with investments in infrastructure, business development and tourism tops new Mayor Agustin Intriago's agenda, he told a group of more than 60 expat residents at

a town hall gathering Tuesday.
Speaking through an interpreter, Intriago, less than three months into his term, called Manta "a city of opportunity" but with much to overcome if it's to continue its growth as a tourism hub.
Topping the list are sewage and water treatment plants that can sustain the city's position as the fastest growing in Ecuador, he said. He also laid out plans to develop green space, including a large waterfront park and $1.6 million series of waterfront green spaces and floating docks dedicated to residents and visitors rather than commercial fishing. Next year, he said the city plans to engage experts in developing ecotourism to capitalize on Manta's location.
"Es una ciudad con mucho por hacer todavía … Tenemos serios problemas en nuestra ciudad que debes conocer", dijo Intriago, al enumerar las preocupaciones sobre temas ambientales, seguridad y parques y centros comunitarios adecuados. "Creo que estamos en un punto (de inflexión)".
La reunión estilo ayuntamiento organizada por el personal del alcalde y EcuaAssist duró más de una hora en la terraza de la azotea del restaurante Casa Rosada. Intriago abrió la reunión exponiendo su visión y luego tomó preguntas.
La dependencia de la pesca como principal impulsor económico no es sostenible, dijo el alcalde. Las regulaciones internacionales y nacionales y el impacto desconocido del cambio climático presentan nuevos vientos en contra. En cambio, el alcalde dijo que imagina el turismo como otra industria importante, "pero primero tenemos que arreglar nuestra casa".
Además de la capacidad de agua y alcantarillado, Intriago reconoció que el aeropuerto de la región necesita desarrollo. La ciudad está limitada en lo que puede hacer, pero dijo que espera que la inversión privada y el aumento de las relaciones comerciales con los mercados asiáticos ayuden a brindar al servicio internacional de pasajeros de Manta.
// "It's a city with a lot to be done still … We have serious problems in our city you should know about," Intriago said, listing concerns over environmental issues, security, and adequate parks and community centers.
"I believe we are at a (tipping) point."
The town hall style meeting organized by the mayor's staff and EcuaAssist lasted more than an hour on the rooftop terrace of the Casa Rosada restaurant. Intriago opened the gathering laying out his vision then took questions.
Reliance on fishing as a primary economic driver is not sustainable, the mayor said. International and national regulations and the unknown impact of climate change present new headwinds. Instead, the mayor said he envisions tourism as another major industry, "but we have to fix our house first."
"Las empresas privadas deben ser nuestro principal aliado", dijo.
"Private business needs to be our main ally," he said.
A nivel local, el alcalde dijo que la ciudad está comprometida a mejorar los servicios hospitalarios, y para 2022 dijo que quiere tener disponibles cinco clínicas de salud móviles para servir a la ciudad, así como una clínica veterinaria móvil. Una atención primaria y preventiva mejor y más accesible permitirá a los hospitales atender mejor a las personas con necesidades más graves.
Mirando más allá del centro de la ciudad hacia las áreas rurales circundantes, prometió no repetir los errores anteriores cometidos con la planificación al azar y la zonificación. Santa Marianita, dijo, debe desarrollarse con atención para conectar a los visitantes con el entorno natural con énfasis en evitar la construcción excesiva que separa a los visitantes del océano.
Si bien superar un gobierno de la ciudad arraigado en las viejas formas de hacer negocios es un desafío, Intriago dijo que confía en que ocurrirá un cambio y dio la bienvenida a la comunidad de expatriados para que se involucre mientras su administración establece paneles comunitarios en busca de nuevas ideas.
// Locally, the mayor said the city is committed to improving hospital services, and by 2022 he said he wants to have available five mobile health clinics to serve the city as well as a mobile veterinary clinic. Better, more accessible primary and preventive care will allow hospitals to better serve those with more serious needs.
Looking beyond the city center to rural surrounding areas, he vowed not to repeat prior mistakes made with haphazard planning and loose zoning. Santa Marianita, he said, must be developed with attention to connecting visitors to the natural environment with emphasis on avoiding overbuilding that separates visitors from the Ocean.
While overcoming a city government entrenched in old ways of doing business is a challenge, Intriago said he is confident change will happen and welcomed the expat community to get involved as his administration establishes community panels in a search for new ideas.
"Todos ustedes aquí tienen experiencias de vida que pueden compartir con nosotros", dijo.
// "All of you here have life experiences that you can share with us," he said.
Manta, dijo, siempre ha sido una ciudad de inmigrantes.
"A partir de hoy, todos me conocen", dijo. "Y quiero que sepas que hay alguien que está trabajando para mejorar esta ciudad … para que Manta se convierta en una ciudad donde no solo estamos viviendo, sino que cuando finalmente dejamos este mundo, dejemos un legado".
// "Starting today, you all know me," he said. "And I want you to know there is someone who is working to improve this city … so Manta becomes a city where we are not only living, but when we ultimately leave this world, we leave a legacy."
***
---
OTROS ENLACES / other networks of interest
@ecuaassist
(131)