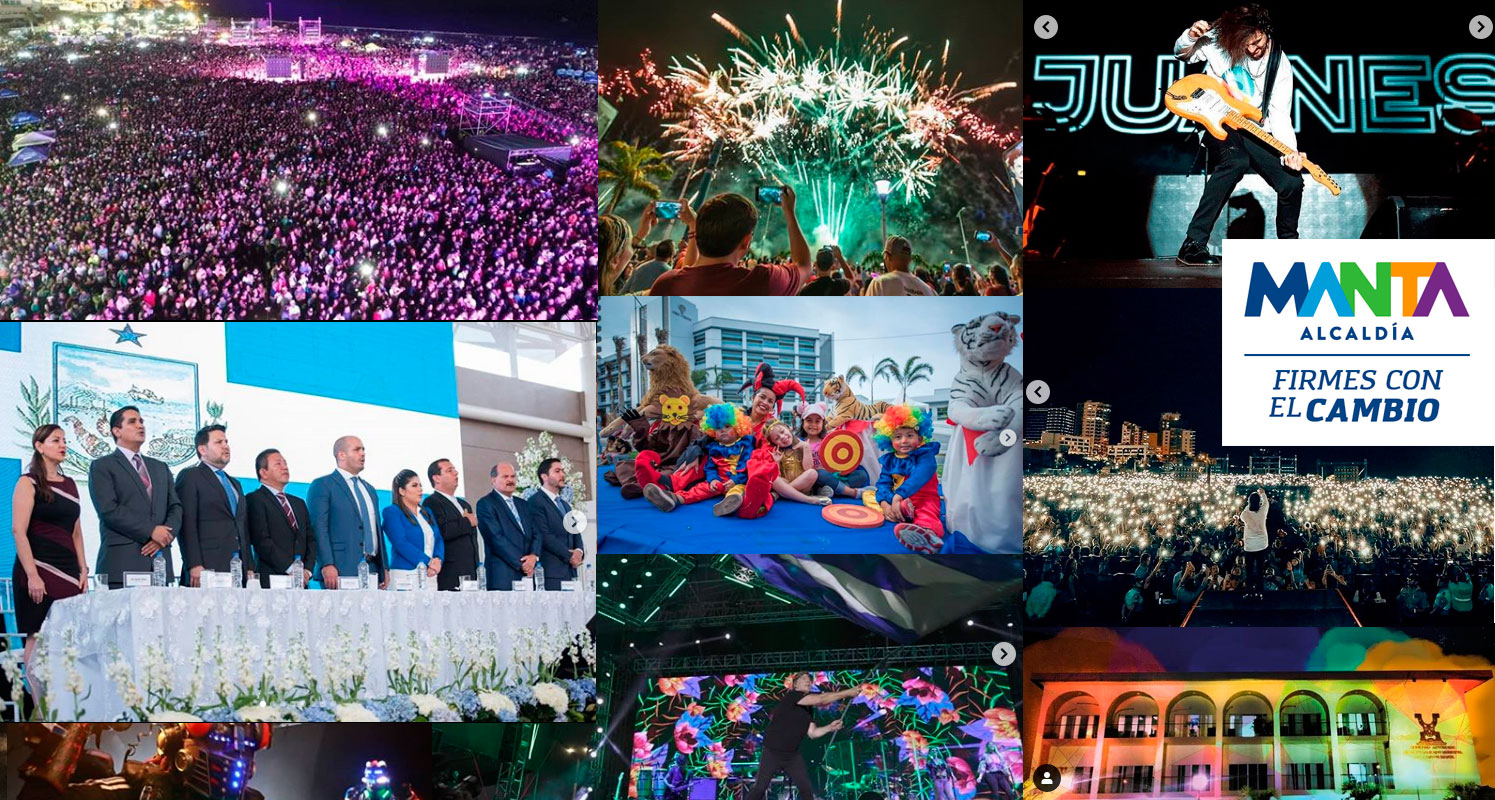 5 razones que consolidan a Manta como uno de los principales destinos turísticos del país
Manta, ciudad puerto de la costa central de Ecuador, (considerada como el eje económico de la provincia de Manabí) potenció en gran medida su imagen nacional e internacional como destino turístico gracias al conjunto de actividades desarrolladas durante sus fiestas por los 97 años de cantonización.
// Manta, port city of the central coast of Ecuador, considered as the economic axis of the province of Manabí greatly enhanced its national and international image as an ideal tourist destination thanks to the set of activities developed during its holidays for the 97 years of independency has a city.
Aquí te presentamos una recopilación de lo más trascendental en redes al respecto y los factores que transforman a Manta como el lugar ideal a visitar y disfrutar a lo grande!
//Here we present a compilation of the most transcendental networks about this topic. Enjoy the content and visit us soon!
---
También podría interesarte:
Manta se proyecta como destino para el turismo de negocios, 
---
1._LOS ESCENARIOS // the scenarios
Playa, Sol, mencionamos la playa? .. Estar cerca o frente al mar, sumado a un clima agradable que acompaña las 24 horas es el coctel ideal para cualquier turista.
// Beach, Sun, do we mention the beach already? .. Being near or facing the ocean, mixed with a pleasant 24/7 weather is the ideal cocktail for any tourist.
Han sido 97 años de luchas y desafíos importantes. Somos una #Manta que late en los más de 300.000 habitantes de esta ciudad y esto nos compromete a todos en ser los protagonistas del cambio. #MantaReactivada #Manta97Años #FirmesConElCambio

Posted by Municipio de Manta on Monday, November 4, 2019
---
2._LOS EVENTOS // the events
Coloridos, alegres, eficientemente organizados. La agenda municipal denominada MANTA REACTIVADA superó todas las expectativas. Una programación que no solo ofrece espectáculos de calidad, sino también una exhibición de las potencialidades turísticas que tiene la ciudad.
//Colorful, cheerful, efficiently organized. The municipal agenda called "MANTA REACTIVADA" exceeded all expectations. A program that not only offers quality shows, but also an exhibition of the tourist potential of the city.
---
3._ LOS CONCIERTOS // the concerts
Artistas nacionales e internacionales presentaron su tributo a la ciudad con una serie de conciertos gratuitos que hicieron vibrar a las multitudes de diferentes generaciones presentes los distintos días de celebración.
// National and international artists presented their tribute to the city with a series of free concerts that made the "multi-generational" multitudes to vibrate all week long.
---
También podría interesarte:
Fiestas 2019 de Manta: espectáculos, feria, gastronomía y civismo
---
Juanes
Vilma Palma E Vampiros
Fausto Miño
 Cumbia Sinfónica
Manta Dance Fest
---
---
4._ LA CIUDADANÍA // the citizens
Nada llena de más orgullo que sentirse parte de una comunidad responsable y conciente de su entorno, los ciudadanos de Manta demuestran el amor por su ciudad en toda oportunidad.
Nothing fills more pride than feeling part of a responsible and conscious community of its surroundings, the citizens of Manta demonstrate love for their city at all times.
---
6._LA ADMINISTRACIÓN // Manta city´s management
---
DATOS ESTADÍSTICOS // statistics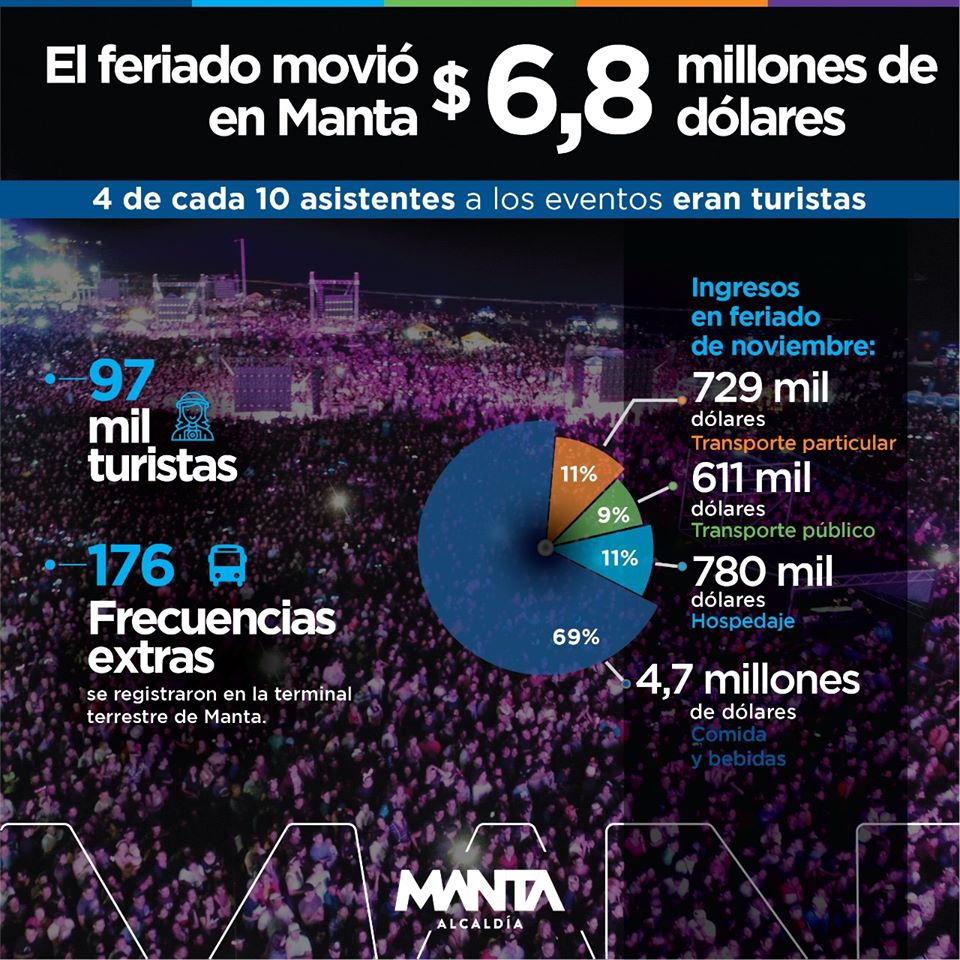 La ciudad recibió cerca de 97.000 turistas, lo que representó un ingreso de 6,8 millones de dólares a la economía local (un promedio de gasto de $71 dolares por turista).
// The city received about 97,000 tourists, representing an income of 6.8 million dollars to the local economy (an average spending of $ 71 dollars per tourist).
---
OTRAS FUENTES:
(401)