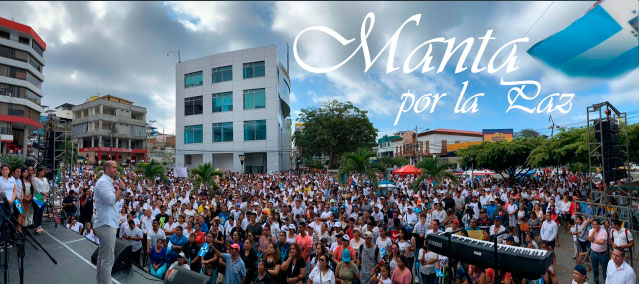 Manta por la Paz
Distintos frentes ciudadanos e institucionales de la ciudad de Manta, se congregaron en los exteriores del @municipiomanta para expresar su respaldo a la Paz.
// Plenty of citizens and institutional fronts from Manta city, gathered outside the @municipiomanta to show their support for national peace actions.
Mensajes de unión, reflexión y agradecimiento // support messages
Representantes de varias comunidades locales expresaron su sentir acerca de los últimos acontecimientos nacionales que afectaron a la población local de muchas maneras, incluso el impacto emocional tuvo grandes implicaciones a nivel personal entre ciudadanos.
//Representatives from local communities expressed their thoughts and feelings about the latest national events that affected the local population in many ways, even the emotional impact had great personal implications among citizens.
Otras intervenciones incluyeron a niños con cuentos y moralejas, presentaciones musicales, incluso el talentoso artista nacional, Carlos Valencia, con un sólido y emotivo mensaje, supo transmitir altivo sentimiento de empatía entre hermanos.
Other interventions included children with stories and morals, musical presentations, including the talented national theater-tv-artist, Carlos Valencia, with a solid and emotional message that created empathy feelings among everyone listening.
El Sr. Alcalde de la ciudad, Agustín Intriago Quijano cerró la jornada con un esperanzador discurso dirigido a los corazones de los cientos de ciudadanos que se dieron cita, adicional a las decenas de miles que observaban por redes sociales, mediante transmisión en vivo.
// Manta city´s mayor, Agustín Intriago Quijano closed the act with a powerful hope-filled speech addressed to the hearts of the hundreds of citizens who gathered, in addition to the thousands who watched the event on social media, through live broadcast.
"No caigamos en provocaciones…"
// "Let's not fall into provocations"
---
TRANSMISIÓN COMPLETA aquí! // live broadcast here
En vivo.Concentración Manta por la Paz

Posted by Municipio de Manta on Monday, October 14, 2019
Un inspirador ejemplo de civismo, registrado en la historia mantense para presentes y futuras generaciones de ciudadanos.
// An inspiring example of citizenship, recorded in history, keep for present and future generations of citizens.
---
GALERÍA CIUDADANA // citizens portraits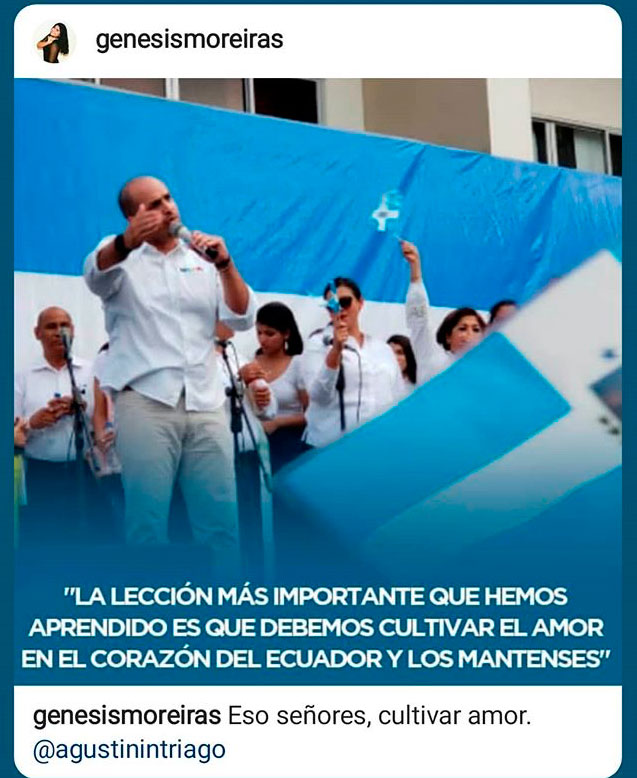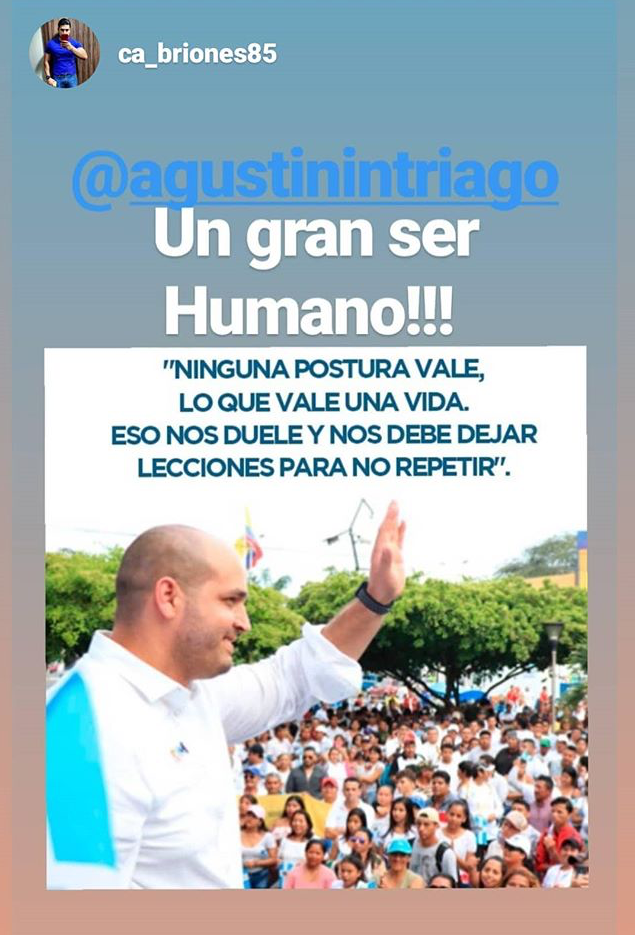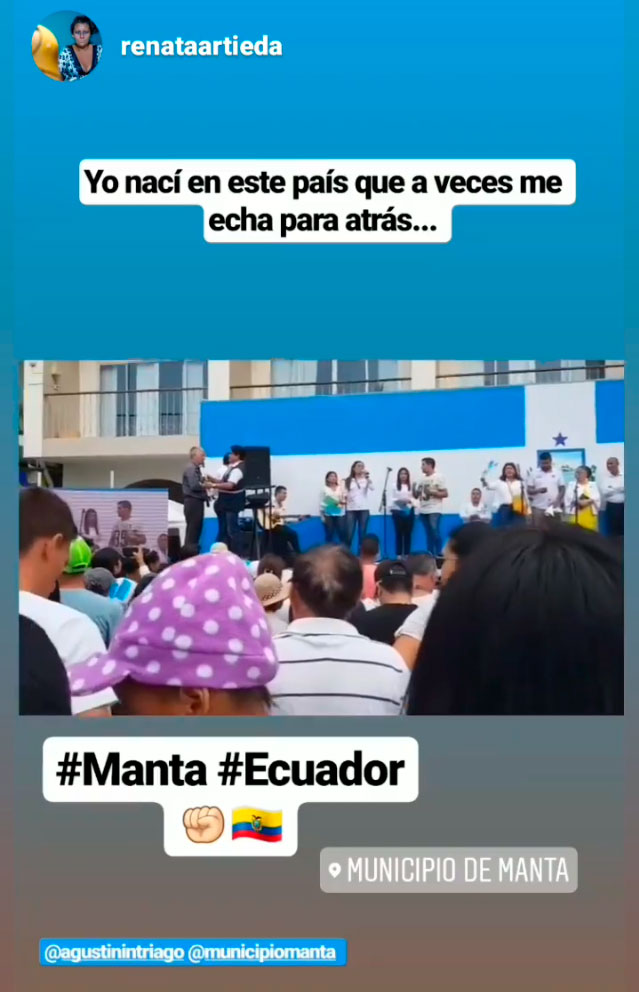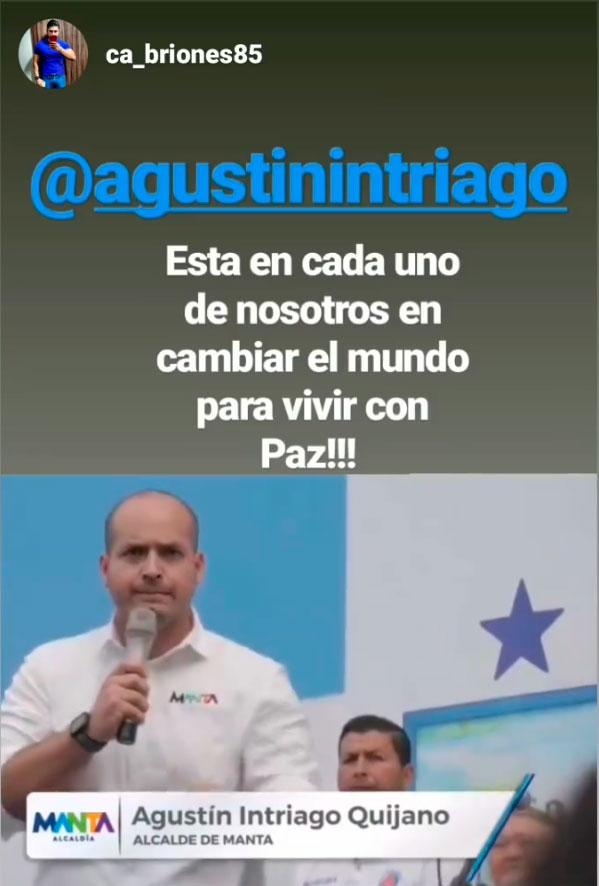 ---
OTROS VIDEOS DE INTERÉS
Daniel Habif comparte un inspirador mensaje, relevante y trascendental. Un total llamado a la reflexión interna y de cierta manera un despertar a la integración regional. (Es resaltable la similitud energética entre él y Agustín Intriago.)
//Daniel Habif, relevant international speaker, shares an inspiring, relevant and momentous message. A total call to internal reflection and somehow a wake up to regional integration. It also highlights the energy similarity between him and our Mayor, Agustín Intriago.
…. …. ..
…
Y así, como hermanos nos unimos, construimos un estado de Paz con las acciones individuales y colectivas.
Sigamos adelante unidos por el mismo propósito en común de crecer y transformarnos en una sociedad ejemplar, en una verdadera sociedad.
// And so on, as brothers we join together, we build a state of Peace with individual and collective actions.
Let´s keep moving forward, united by the same common purpose of growing and transforming ourselves into an exemplary society, into a true society.
Juntos somos más fuertes!
//Together we are stronger!
(109)