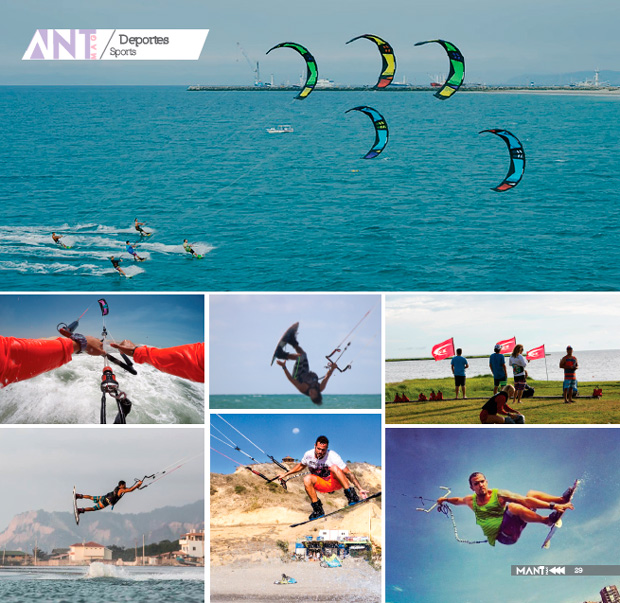 Kitesurfing highlight of the season
---
"Vivir en Ecuador (la mitad del mundo) es un privilegio, el clima es agradable durante todo el año".
"Living in Ecuador (half the planet) is a privilege, the weather is nice all year round."
La ciudad de Manta es un lugar muy particular en donde durante un poco más de 8 meses el viento parece no parar de soplar.
// The city of Manta is a very special place where for a little more than 8 months the wind seems to non-stop blowing.
2
Son las playas populares para practicar deportes de viento: Santa Marianita y Murciélago.
// Are the popular beaches for wind sports: Santa Marianita and Murcielago.
15-25 nudos y olas que varían de acuerdo a la temporada.
// 15-25 knots winds and waves that vary according to the season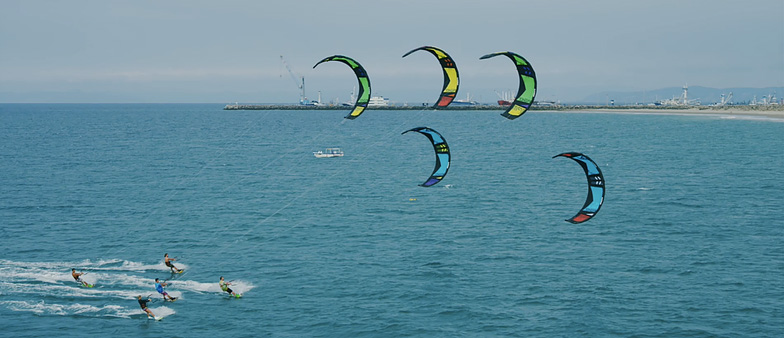 Playa Murciélago al ser una bahía de agua poco profunda, cuenta con agua más plana y por momentos, viento más fuerte, convirtiéndola en un lugar increíble para el "wakestyle-freestyle" una modalidad que es muy popular en este deporte.
// Murcielago beach, as a bay of shallow water, has "flatter" water and, at times, stronger wind, making it an incredible place for "wakestyle-freestyle" modality, that is very popular in this sport.
---
La meca del kitesurf ecuatoriano

/ Kitesurfing's mecca
La playa de Santa Marianita es el lugar con viento más constante en el Ecuador. Un spot de olas al sur y amplia extensión de playa hacia el norte son la razón de que este sea el lugar idóneo para el aprendizaje de este deporte.  Sin duda, un parque de diversiones para los amantes del kiteboarding.
// Santa Marianita's beach is the place with the most constant wind in all the ecuadorian coast. A surfing spot to the south and a wide beach stretch to the north, are the main "reason-why" to call this is place, the ideal location to learn the sport. Undoubtedly, a sick park for kiteboarding lovers.
El kitesurf ya es parte de nosotros, incluso a sido el factor principal del desarrollo de Santa Marianita como un destino turístico en la actualidad. Es un lugar interesante para la inversión extranjera y local en bienes raíces.
// Kitesurfing is already part of us, it has even been the main factor in Santa Marianita's development as today's tourist destination. It is an interesting place for foreign and local investment in real estate.
"Jóvenes locales de familias pescadoras, utilizan este deporte como una herramienta de trabajo y como su entretenimiento principal".
"Young locals from fishing families, use this sport as a work tool and  their main entertainment activity".
---
DATO MANTAMAG / fact:
Desde los primeros días que se vieron cometas en la playa, el número de participantes locales a tenido un crecimiento progresivo.
Fly-Fest
Evento local de interés internacional, con participación de profesionales de nivel mundial.  Ha logrado poner en el mapa mundial del kiteboarding a Manta, siendo  uno de los destinos más activos de la región del pacífico sur occidental. 
Local event of international interest with world-class professional competitors. Manta now figures at the kiteboarding's world map, being one of the most active destinations in the pacific south's western region.
INSTAGRAM: @oceanfreaks
(59)