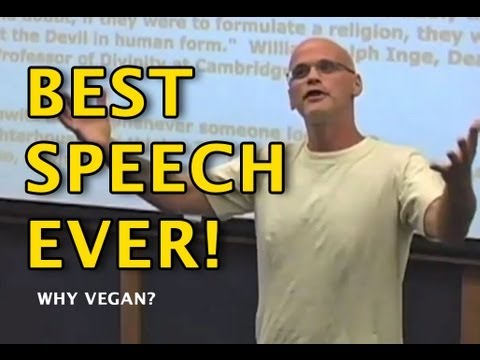 CAMBIA TU VIDA, el mejor discurso que jamás escucharás *RECOMENDADO*
Este video es de Gary Yourofsky y mi único fin es que cuanta mas gente pueda verlo mejor, pues a veces 1 hora de video puede cambiar una vida.
This video is by Gary Yourofsky and my only purpose is that the more people can see it better, because a times 1 hour of video can change a life.
El discurso sobre las excusas / Speech about excuses
"Los seres humanos ven la opresión vívidamente cuando son las víctimas. De lo contrario victimizan a ciegas y sin pensarlo".
-Isaac Bashevis Singer-
"Human beings see oppression vivdly when they are the victims. Otherwise they victimize blindly and without a thought". -Isacc Bashevis Singer.
#vegan #veganism #speech #animal #rights #justice #compassion #love
---
PARA MAYOR INFORMACIÓN TE SUGERIMOS VISITAR / please visit:
https://www.naturesrecipe.com/
(30)