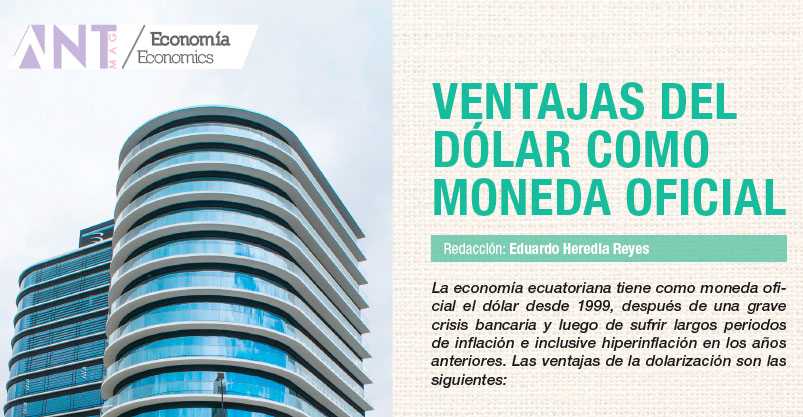 Ventajas del Dólar como moneda oficial
Redacción: MBA Eduardo Heredia Reyes
 La economía ecuatoriana tiene como moneda oficial el dólar desde 1999, después de una grave crisis bancaria y luego de  sufrir largos periodos de inflación e inclusive hiperinflación en los años anteriores.  Las ventajas de la dolarización son las siguientes:
El dólar como moneda sólida, previene altos niveles de inflación e hiperinflación. Lo cual ocasiona pérdidas de patrimonio, de ahorros, de poder adquisitivo de los salarios, entre otros.  Con el dólar, Ecuador ha mantenido una inflación cercana a los países del primer mundo, y el gobierno ha podido planificar a largo   El Banco Central ya no emite billetes sin respaldo, solo únicamente moneda fraccionaria. También bajo este esquema se elimina la práctica grave perjudicial que tienen derecho los gobiernos de turno de imprimir dinero, sin respaldo financiero real, previniendo altas tasas de inflación.
Promueve la inversión y reduce las tasas de interés, aunque no lleguen a ser tan bajas como las de Estados Unidos. La dolarización casi elimina los riesgos de devaluación e inflación. Los inversionistas extranjeros siempre preferirán invertir en un país dolarizado, que en un país con moneda local, sujeta a devaluaciones constantes producida por la impresión de dinero sin control.
Simplifica y facilita las relaciones comerciales con una moneda común en un mundo actual globalizado. Se copian las reglas de juego del primer mundo para obtener calidad de vida similar.
La dolarización estimula la exportación de otros productos, difícilmente competitivos en los mercados internacionales en una economía con tasas de cambio variable e impredecibles.
Se establecen mejores condiciones claras para el comercio exterior. Los exportadores no dependen su utilidad del diferencial cambiario, por la constante devaluación de la moneda, sino en la eficiencia y productividad para reducir costos.
La dolarización como proceso estimula el crecimiento económico de los países. Se señala que al eliminar las malas prácticas de monedas locales, la dolarización elimina uno de los obstáculos más grandes al crecimiento en muchos países. La credibilidad de un sistema monetario dolarizado facilita las transacciones financieras internacionales al reducir la percepción externa del riesgo país.
Los productores tienen ingresos estables y pueden adquirir bienes sin tener el deterioro de su capacidad, obteniendo mayor bienestar económico y calidad de vida.
El riesgo del fracaso del sistema económico del país bajará. Una de las causas del fracaso de las económicas en Latino América del pasado han sido por las continuas devaluaciones y deterioro adquisitivo del salario de las monedas locales causando recesión y caída de todos los demás indicadores: empleo, liquidez en poder del público, ahorro, inversión, causando mayor pobreza, incluso con hiperinflación para algunos, destructora de sus aparatos productivos.
No hay necesidad de imponer controles de cambio (paquetazos).
La dolarización estimula la internacionalización del sistema financiero. Si la dolarización se combinara con un sistema bancario que es "internacionalizado", abierto a la participación extranjera, lo bancos internacionales buscarán oportunidades en economías estables dolarizadas, aumentando así la inversión extranjera en el país.
---
ADVANTAGES OF THE DOLLAR AS OFFICIAL CURRENCY
The Ecuadorian economy has the dollar as its official currency since 1999, after a severe banking crisis and after suffering long periods of inflation and even hyperinflation in previous years. The advantages of dollarization are:
The dollar as a strong currency, prevent high inflation and hyperinflation. Which causes losses of assets, savings, insurance, and wages's purchasing power. With the dollar, Ecuador has maintained an inflation close to first world countries, and the government has been able to plan for the long term. The central bank no longer print money without financial backup, only fractional currency. Also under this scheme, the detrimental practice entitled by successive governments to print money without real financial backing is eliminated, again preventing high inflation.

It promotes investment and reduces interest rates, even if it doesn't become as low as the United States. Dollarization nearly eliminates the risk of devaluation and inflation. Foreign investors always prefer to invest in a dollarized country than in a country subject to constant devaluations caused by the uncontrolled printing of local money's currency.

Simplifies and help business relationships with a common currency in a globalized world. First world countries rules are emulated to obtain a similar quality of life.

Dollarization stimulates the export of other products, hardly competitive in international markets in an economy with rates varying and unpredictable change.

Clear rules are setted for international trade. Exporter's revenue no longer depends on the differential exchange rate, variable by the constant devaluation of the currency, but on productivity and efficiency to reduce costs.

The dollarization as a process stimulates countries economic growth. It emphasized that eliminating worthless local currencies, dollarization eliminates one of the biggest growth obstacles in many countries. The credibility of a dollarized monetary system facilitates international financial transactions to reduce the external perception of a "country's risk".

Producers have fixed incomes and are able to acquired assets without deterioration in their purchasing power to obtain greater economic welfare and quality of life.

The risk of failure of the country's economic system will greatly be reduced. One of Latin America's biggest causes of economic failure is due to continuous devaluation and deterioration of the purchasing power of wages causing more recession and dropping all other indicators such as: employment, cash held by the public, savings, investment, causing increased poverty, even hyperinflation to some as destructive of its productive system.

There is no need to impose exchange controls (paquetazos).

Dollarization stimulates the internationalization of the financial system. If dollarization is combined with a banking system that is "internationalized", open to foreign participation, international banks will seek opportunities in stable dollarized economies, increasing foreign investment.
(1323)