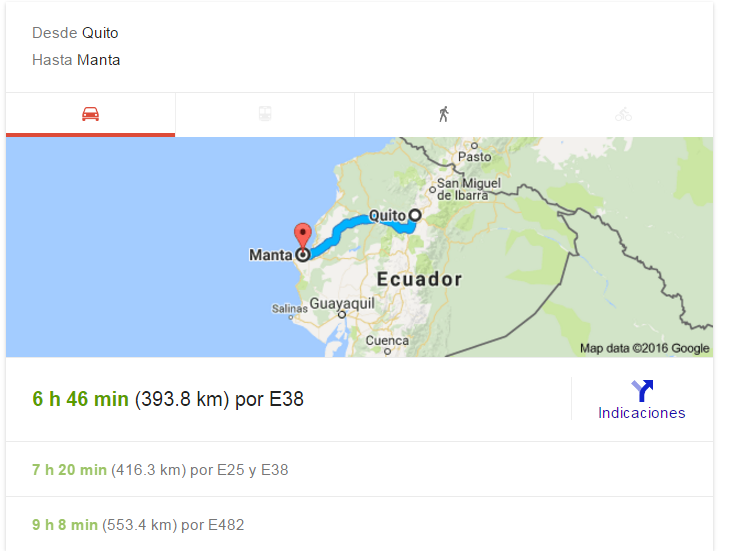 Cómo llegar? / How to get there? to Manta, Ecuador!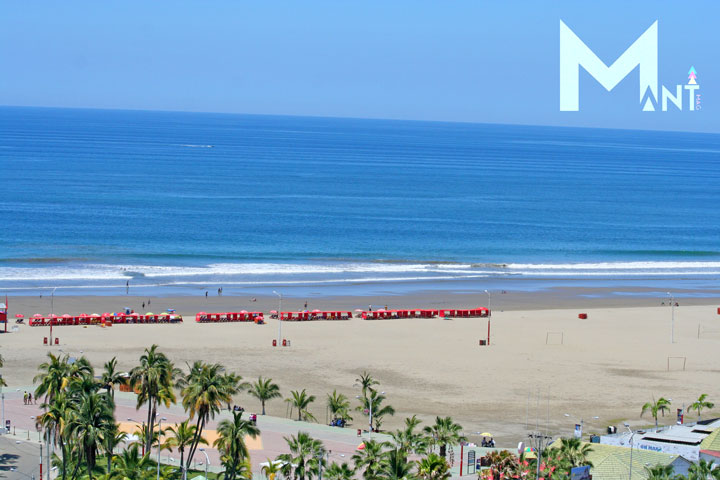 La "ciudad-playa-puerto" de Manta está localizada en la costa central del Ecuador a 394km de la capital Quito, o a 191 km de Guayaquil. Cuenta con terminal aérea para vuelos nacionales (incluyendo Galápagos) y terminal terrestre para buses intercantonales e interprovinciales.
//
The "city-beach-port" of Manta is located on the central coast of Ecuador at 394km from the capital Quito, or at 191km North west from Guayaquil. It has an air terminal for domestic flights (including Galapagos) and land terminal for inter-provincial buses.
---
Quito – Manta
VÍA AÉREA / by AIR
Desde el Aereopuerto de Quito, Tabaleba puedes elegri entre las aerolíneas TAME, AVIANCA, la duración del vuelo es de 30 minutos, con arribo en el Aeropuerto de Manta, a tan solo 5-10 minutos del centro comercial y playas cercanas. //
Comercial flights available!
VIA TERRESTRE / BY BUS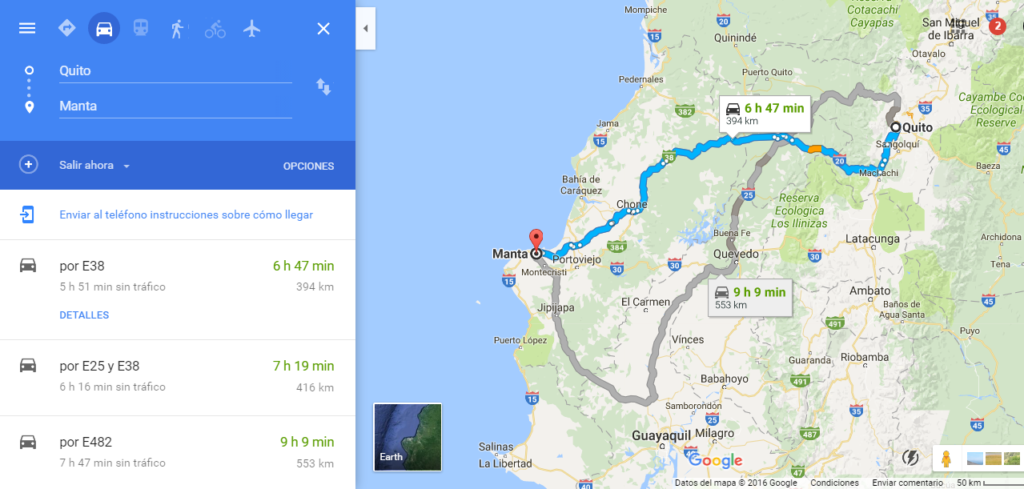 Tiempo estimado medio terrestre: 8 horas / Estimated Driving time: 8 hours
PANAMERICANA INTERNACIONAL
Av. Colón y Reina Victoria, telf: 2557-133
Horarios: de lunes a domingo a las 21:00 pm. y 21:45 pm. Desde Manta – Quito.
Horarios: de lunes a domingo a las 21:30 pm. y 22:30 pm. Desde Quito – Manta.
El precio del pasaje en el horario de las 21:45 es de $ 9.00
El precio del pasaje en el horario de las 21:30 es de $ 10.00
REINA DEL CAMINO
Terminal Terrestre del Cumandá, telf: (02) 321-5824 / 
Horarios: 8:00 am., 12:50 am., 14:00 pm., 20:00 pm., 22:00 pm., 23:00 pm y 23:30 pm.
El tiempo de duración del viaje es de 7 a 8 horas y el pasaje cuesta entre 8,00 a 10,00 USD.
FLOTA IMBABURA
Manuel Larrea y Portoviejo, telf: 2565-620
Horarios: 11:30 am., 21:30 pm. y 22:30 pm.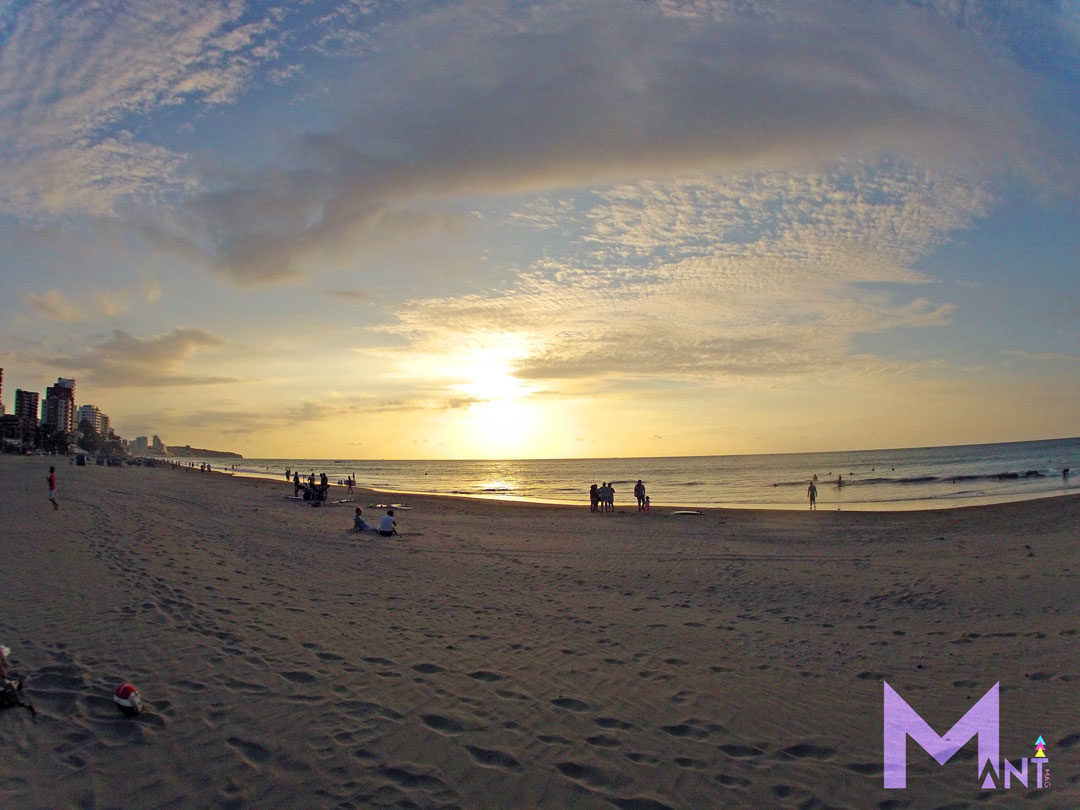 ---
Guayaquil – Manta.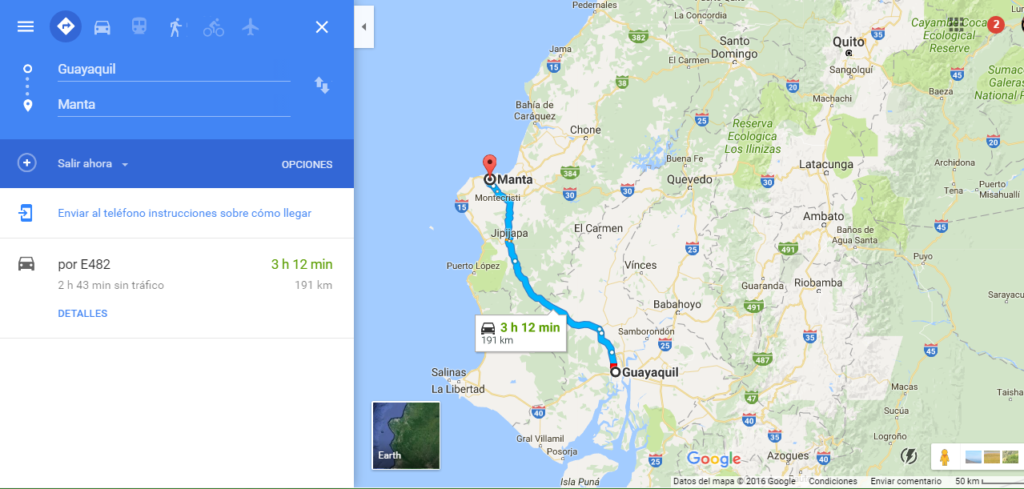 No hay vuelos comerciales / No comercial flights.
Tiempo estimado vía terrestre: 3 horas / Estimated Driving time: 3 hours
Estación/Bus Station: Terminal Terrestre de Guayaquil
Frecuencias: cada hora desde las 04:00 am hasta las 8pm / Bus frecuencies: every hour starting at 4am until 8pm.
El precio del pasaje es $6,00 // The ticket is $6 dollars.
---
 
CONTACTOS TELEFÓNICOS / Phone contacts:
Emergencia / Emergency: +911
Aeropuerto / Airport: (+593 5) 2 3808839 – 2380693
Policia Nacional / Police : +115 – +101 – 052 920900
Cuerpo de Bomberos / Firefighters: +102 – 052 621111
Cruz Roja / Red Cross: 052 624 212 – 052 624075
Hospital Rodriguez Zambrano: 052 625610 – 052611849
---
OTROS ACCESOS / OTHER ACCESS

RUTA DEL SPONDYLUS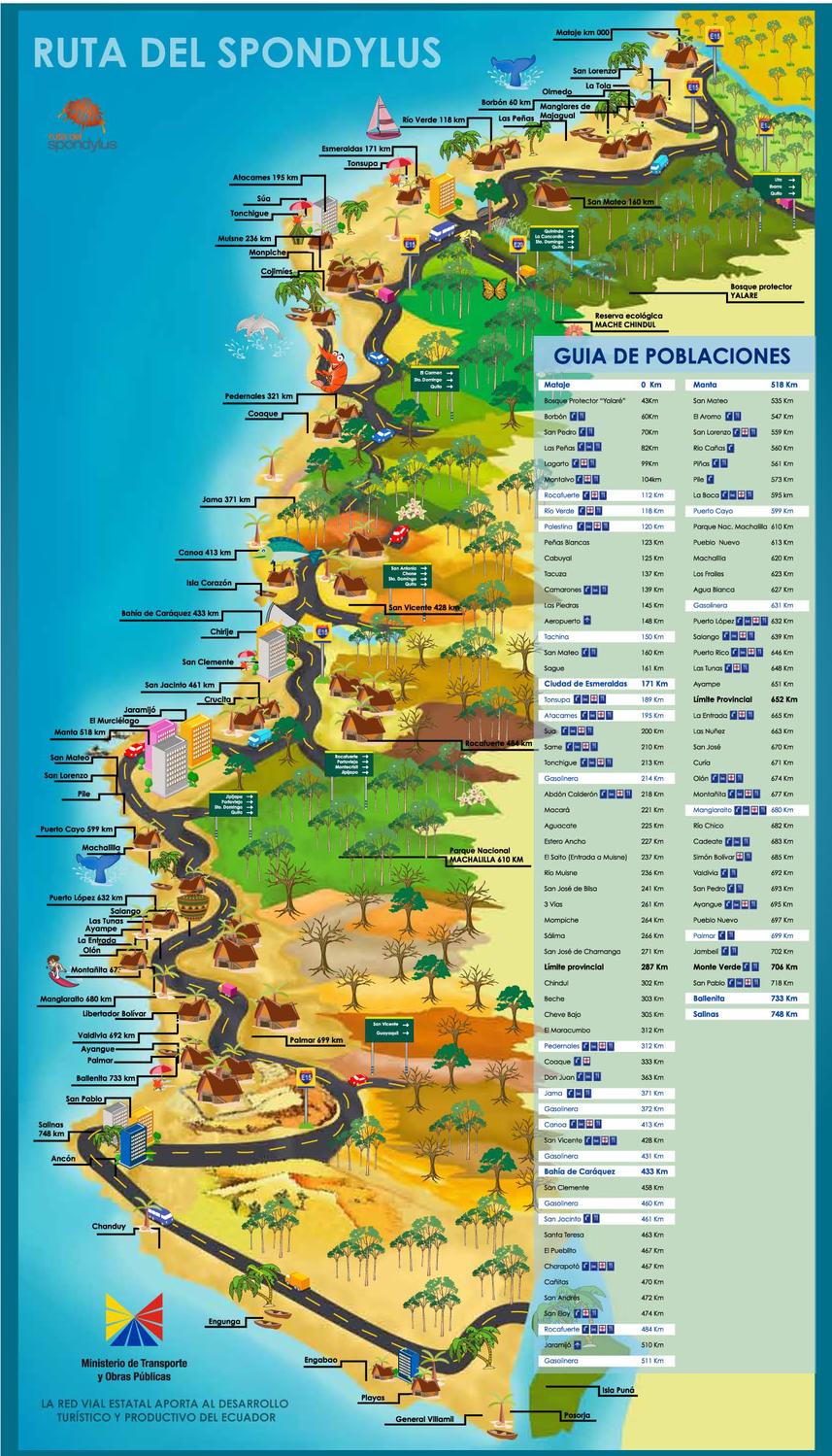 DISTANCIA TERRESTRE (Km) de Manta a: /

Distances (km) from Manta to:
San Clemente   45        Puerto Cayo   65
Jaramijó               8         Machalilla     80
Portoviejo           35        Los Frailes     85
San Mateo           7         Puerto López  93
El Aromo             17         Montañita     154
San Lorenzo    27        Montecristi      14
---
PUNTO DE INFORMACIÓN
El municipio de la ciudad, a través de la dirección de turismo ha habilitado un local llamado "I-TUR" diagonal al Estadio de Arena en la playa del Murciélago, donde podrás solicitar toda la información turística de Manta y la región en general, lugares de hospedaje recomendados cercanos, medios de transporte seguros, entre otros. //
The Municipality, through the tourism management has enabled a place called "I-TUR" diagonal to Arena Stadium on the beach of Murciélago, where you can request all the tourist information of Manta and the region in general, places Of recommended lodging near, means of transport insurance, among others.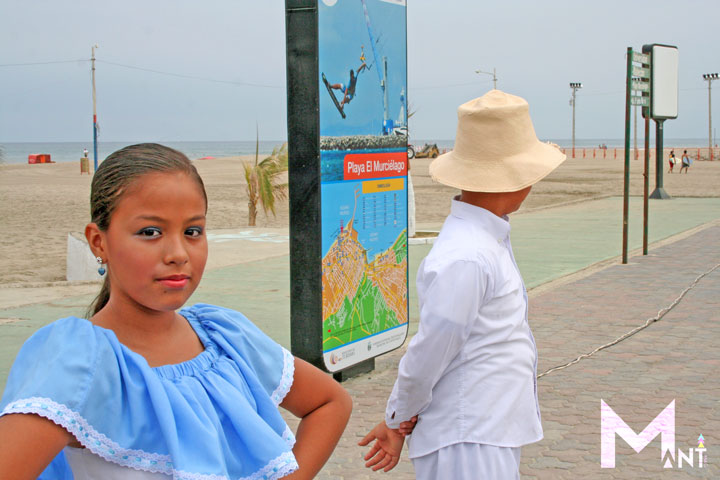 ---
Esmeraldas – Manta.
Seis frecuencias: 02:30 am, 04:30 am, 08:30 am, 19:00 pm
El precio del pasaje es $7,00
Ambato – Manta.
Dos frecuencias: 05:30 am, 18:00 pm
El precio del pasaje es $8,00
Sto Domingo – Manta.
Desde las 09:30 am cada hora hasta las 22:00 pm.
El precio del pasaje es $5,00
(517)