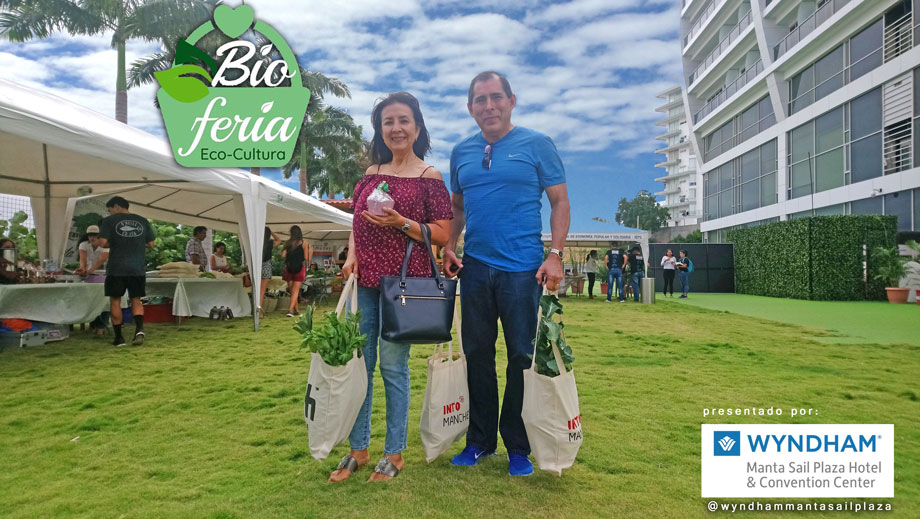 BIOFERIA ECO-CULTURA presentado por Wyndham Manta Sail Plaza
---
En razón del éxito creciente de las denominadas "Bioferias", los organizadores de este ingenioso y valioso movimiento (ASOCIACIÓN DE PRODUCTORES AGROECOLÓGICOS Y ARTESANALES DE MANABÍ, ASOPROMAN) plantearon replicarlo en la ciudad de Manta, ciudad en la que estamos convencidos existe una población muy identificada con el objetivo general expuesto.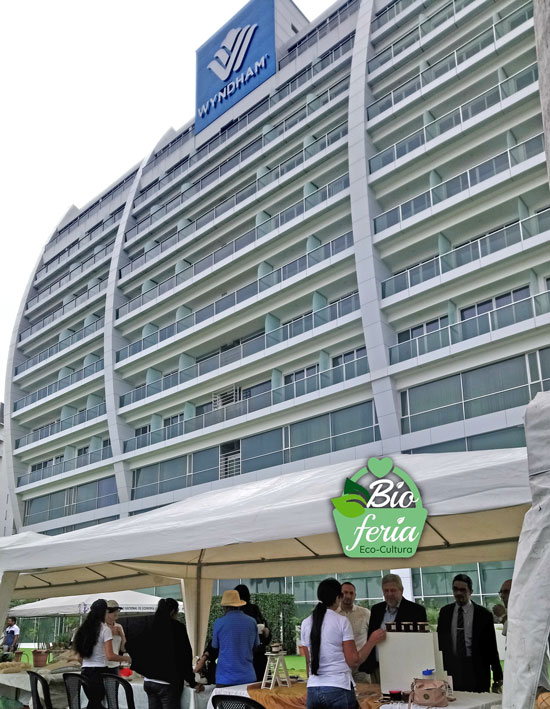 Iniciando el segundo semestre del año en curso (2019) El Hotel Wyndham Sail Plaza abrió sus puertas para continuar con las actividades de exposición, gracias a la acertada aceptación de sus directivos.
// Starting the second semester of the current year (2019) The Wyndham Sail Plaza Hotel opened its doors to continue with the exhibition activities, thanks to the successful acceptance of its executives.

Esta edición contó con la participación de algunos ya usuales emprendedores alineados a la visión del movimiento y que poco a poco van ganando aceptación y clientes frecuentes al consumo de los productos ofertados.
// This edition counted with the attendance of some already usual entrepreneurs aligned with the movement´s vision and who are gradually gaining acceptance and frequent customers for the consumption of their offered products.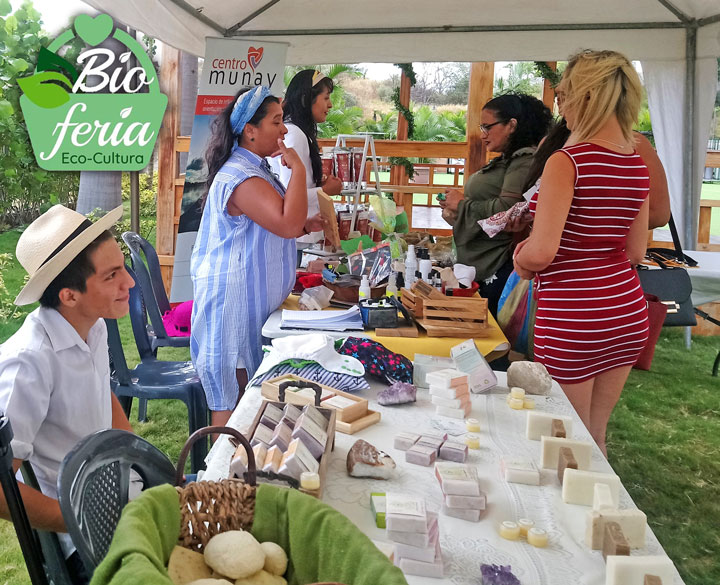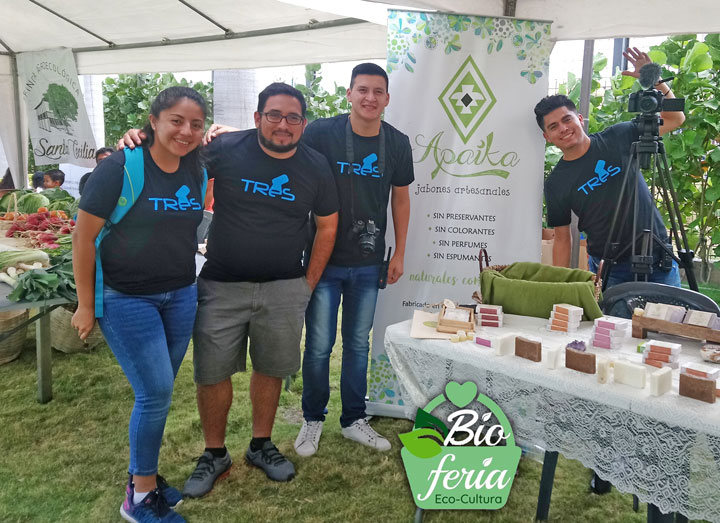 La estelar productora audiovisual @tres_latam presente realizando cobertura y formando parte de la familia Bioferia Eco-cultura.
---
Objetivos específicos de la Bioferia
Generar conciencia en la población respecto de las consecuencias nefastas en la salud, debido al creciente impacto del uso de químicos en la producción de alimentos. Los resultados expresados en el incremento de enfermedades como la hipertensión, diabetes, Insuficiencia Renal, Colesterol alto, Artritis, Gastritis, Infartos, Obesidad, Cáncer, etc. Ha obligado a que desde el presupuesto del Gobierno Central, IESS, GADS, SOLCA y otras instituciones dedicadas al tratamiento de la salud, se orienten grandes sumas de recursos que no solucionan el problema originario. Igualmente, concientizar a la población en cuanto al daño generado al ambiente por el uso de plásticos y desperdicios. // Raise awareness in the population regarding the harmful consequences in health, due to the growing impact of the use of chemicals in the production of food. The results expressed in the increase of diseases such as hypertension, diabetes, Renal Insufficiency, High Cholesterol, Arthritis, Gastritis, Infarction, Obesity, Cancer, etc. It has forced that from the budget of the Central Government, IESS, GADS, SOLCA and other institutions devoted to the treatment of health, large amounts of resources are directed that do not solve the original problem. Also, raise awareness among the population regarding the damage generated to the environment by the use of plastics and waste.
Buscar la unión de organizaciones y personas que han venido buscando formas alternativas de cultivo y transformación de los productos primarios, en procesos que dan como resultado tener a disposición alimentos sanos y orgánicos, aunque esas producciones aún sean en pequeña escala. // To quest for the union of organizations and people who have been looking for alternative forms of cultivation and transformation of primary products, in processes that result in having healthy and organic food available, even if these productions are still on a small scale.
Poner a disposición del público los productos orgánicos, mediante la exposición en Bioferias, espacio en el que sin intermediarios se encuentran productores y consumidores, en un momento en que los primeros pueden ir entregando información que se convierte en parte de la conciencia y el segundo puede absolver todas las inquietudes sobre los mejores productos a utilizar para diferentes circunstancias. // Making organic products available to the public through exposure in Bio-markets, a space where producers and consumers are without intermediaries, at a time when the former can provide information that becomes part of the conscience and the latter can Absolve all concerns about the best products to use for different circumstances.
---
ACERCA DE LA BIOFERIA:
Desde mediados del 2018, un grupo de apasionados productores agroecológicos, permacultores y artesanos Manabitas y residentes en esta provincia (Manabí), nos hemos juntado para analizar los efectos negativos que generan en la salud los químicos aplicados en los procesos de producción agrícola y que diariamente se pueden conocer en varios medios de comunicación, así como también los altos niveles de contaminación del planeta por el uso indiscriminado de artículos plásticos; y definimos que una estrategia muy práctica sería ofrecer de manera directa los productos procesados sin la intervención de los agrotóxicos en eventos periódicos que denominamos Bioferia. Este se constituiría en un espacio de generación de conciencia respecto de la importancia de la alimentación sana, la eliminación  de fundas plásticas y desperdicios, el consumo responsable y el comercio justo. Los productos que se podrían ofrecer serían de naturaleza primaria, semiprocesados y procesados.
// Since mid-2018, a group of passionate agroecological producers, permacultores and Manabitas artisans and residents of this province (Manabí), have come together to analyze the negative effects that chemicals applied to agricultural health processes have on health. can be known in various media, as well as the high levels of pollution of the planet by the indiscriminate use of plastic items; and we defined that a very practical strategy would be to directly offer processed products without the intervention of agrotoxics in periodic events that we call Bioferia. This would be a space for generating awareness about the importance of healthy eating, the elimination of plastic bags and waste, responsible consumption and fair trade. The products that could be offered would be primary, semi-processed and processed.
Así nació la BIOFERIA PORTOVIEJO ECO CULTURA, como un evento de realización mensual en las instalaciones de "El Campito", Av. Reales Tamarindos en Portoviejo; ofreciendo a quienes concurrían, los productos obtenidos en fincas de varios lugares de la provincia y de comunidades de la Sierra que ya están trabajando en ese propósito, a valores muy accesibles. Se complementa la oferta con productos semi elaborados, artesanales, gastronomía, artesanías vivas, productos de hogar y cosmética natural. Actualmente este evento se realiza con una frecuencia quincenal en los espacios del Jardín Botánico.
// This is how the BIO-MARKET PORTOVIEJO ECO CULTURA was born, as a monthly event at the facilities of "El Campito", Av. Reales Tamarindos in Portoviejo; offering to those who attended, the products obtained in farms of various places in the province and communities of the Sierra that are already working on that purpose, at very accessible values. The offer is complemented with semi-elaborated, handmade products, gastronomy, live crafts, home products and natural cosmetics. Currently this event is held every two weeks in the spaces of the Botanical Garden.
Además, este evento es un aporte en el ámbito cultural musical, holístico y nutricional, pues en cada edición de las Bioferias se presentan actividades complementarias para ofrecer una mañana familiar agradable y sana, lo que constituye parte de la nueva cultura y tendencia ecológica. Esta es una propuesta que ha tenido total apertura y apoyo por parte de instituciones, empresas y organizaciones de la sociedad Portovejense, Mantense y Manabita.
// In addition, this event is a contribution at the musical, holistic and nutritional cultural field, since in each edition of the Bio-markets complementary activities are presented to offer a pleasant and healthy family morning, which is part of the new culture and ecological trend. This is a proposal that has been fully open and supported by institutions, companies and organizations of Portovejense, Mantense and Manabita.
---
Redacción orginal / original text:
Mario Galindo Saltos
PRESIDENTE
 ASOCIACIÓN DE PRODUCTORES AGROECOLÓGICOS Y ARTESANALES DE MANABÍ, ASOPROMAN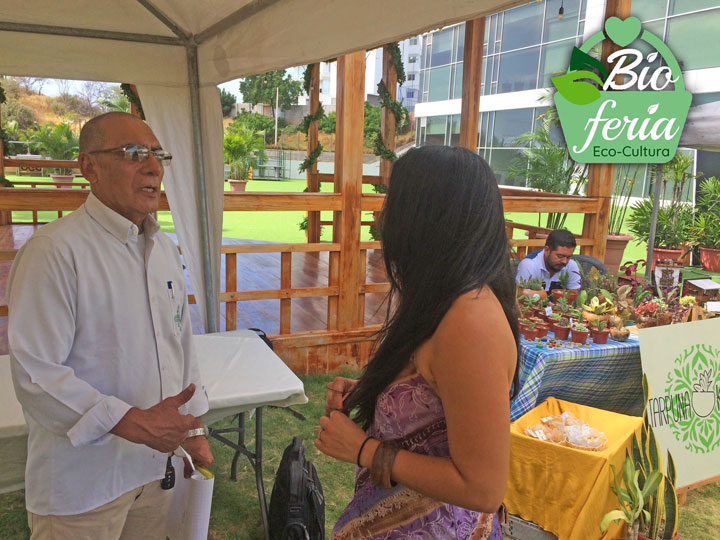 (194)